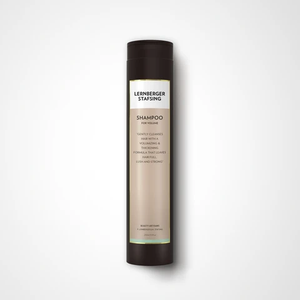 LERNBERGER STAFSING
Lernberger Stafsing beauty regime is quite simple, we call it Scandinavian Beauty – fewer products that fulfil your daily beauty routines. We believe in modern advanced formulations with powerful active ingredients for both young and older hair and skin types.Our passion for science based active ingredients, combined with our love for plant based organic extract formulas, helps us to create products from both heart and knowledge with superior results. The result is premium high-end products, made in Sweden with highly effective ingredients that provide visible, long-lasting results without harmful chemicals to create and maintain luminous and radiant hair and skin.  Our formulations are vegan, cruelty-free and free from harmful chemicals, for you and the environment. 
Conditioner for Moisture RRP
Designed to nourish and hydrate hair
For dry, damaged hair.
Vegan, cruelty-free
Pamper your hair with this moisturizing and rebalancing formula containing proteins and amino acids from collagen, and blue-green algae extract, which strengthens hair and tones scalp. Broccoli oil delivers moisture and shine.

Recommended for all hair types, especially normal to dry hair. 
Scent: Bergamot, Pineapple, Peach, Apple, Rose, Raspberry, Musk, Rosewood.
Made in Sweden. Volume: 200ml.