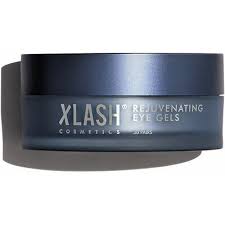 Reduce dark circles, fine lines and puffiness in an instant with Xlash Rejuvenating Eye Gel Patches. These cooling and revitalising eye gel patches give the under-eye area an intense hydrating boost, with the help of pure water vapour drawn from the clouds. They help to hydrate, moisturise and reduce the look of fine lines, crow's feet, and under-eye darkness.

Formulated with several powerful and active ingredients, Xlash Rejuvenating Eye Gel Patches awaken and vitalise dull skin with a burst of hydration. Some of the key ingredients are ceramides, collagen and marshmallow root extract which help to smoothen and soften the skin, reducing the visibility of fine lines. It is also formulated with multiple sizes of hyaluronic acid that are able to attract and retain up to 1000 times their weight in water to lock in hydration. Caffeine helps to reduce puffiness under the eyes whilst arnica is a great ingredient for reducing the appearance of dark circles.
One pack contains 30 pairs of Eye Gel Pads.

Made in Korea.